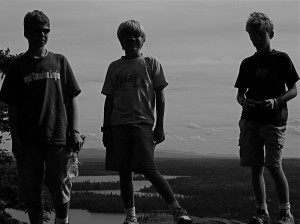 Remember summer camp? …would you get along with your bunk mate? …would you have to like the person across from you at dinner?…would there be anyone to talk to? …separation anxiety.  And that's just the parents.  For our kids we hope they return, sun kissed and earth smudged.  Our older son had a fantastic time at camp and I had always hoped there would be a way for G to experience the same thing.  I debated the pros and cons and how to's in my head for years and finally last year we took the dive into summer camp with food allergies.
I decided that the only way I could let G go to camp and maintain my sanity is if I supplied all his meals.  Sounds a bit crazy when I write it down, but it wasn't that difficult.  Besides, unless the camp is set up to cater specifically to children with food allergies I don't think a camp could handle this extreme request, nor would I expect it.  We chose a camp my friend's daughters were going to which is only 90 minutes from town.  I emailed the registrar and asked if it was possible for the camp to accommodate a child with food allergies if I supplied the food.  They were very welcoming.  They had a fridge set aside for him to keep his food and soy milk in and a microwave only he used to heat his meals.  The Tuck Shop was open on check in day so we checked out all the safe snacks he could buy (there never seems to be a lack of G friendly junk food!).  I supplied cookies he could have for 'Mug Up' at the end of the day and marshmallows for a treat.  I went up in the middle of the week to replenish his supplies.
The only snag was my own fault.  I had made containers of casserole type food for his dinners and frozen them.  Turns out they were frozen too well.  The under powered microwave G used couldn't actually thaw the dishes so he ended up eating cold scrapings of casserole from around the edges.  I think he lived off of cold hot dogs and Wine Gums bought at the Tuck Shop.  There's protein in the gelatin, right?
He had an amazing week and came home with a new sense of independence and confidence.  He still stays in touch via email with a couple of the friends he met there.  They have arranged to go to the same camp together again this year and this Saturday we will be heading up to camp loaded with sleeping bag, pillow and food – this time not quite so frozen!