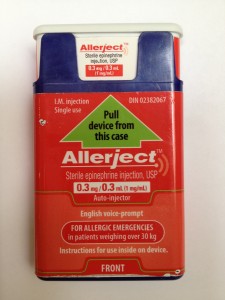 Yay!  Got an Allerject for G.  It's the new epinephrine auto-injector (mentioned before) produced in Canada by Sanofi.  Not sure if this product won any sort of design award, but it should.  Best redesign of a product … ever!  No, really, wouldn't you rather carry around something in your trouser's front pocket that looked like a small phone rather than a … banana.  I know I would and I'm not a teenaged boy.
A well promoted feature of the Allerject is that it talks to you helping you use it like the defibrillators that have been installed in rec. centers and other public buildings.  A voice gives you very clear prompts every step of the way.  This really is useful, especially for the first time user, but it was the unobtrusive shape of it that sold us.
How to wear the Allerject – limitless options for the progressive dresser.  I'm not using 'Hipster' to describe G's style because the term is a bit limiting ; )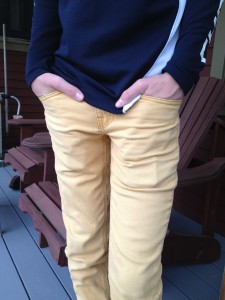 Casual : iPhone in one pocket, Allerject in the other.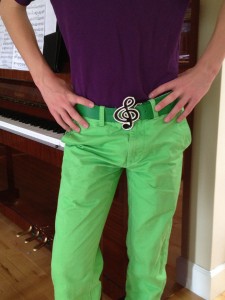 Preppy : Spot the Allerject … nope, that's the iPhone; it's the other pocket.  These pants even have a small secondary pocket inside the main one.  People think it's for small change, but it's actually for the Allerject so everyone can discretely carry one.  No, really… betcha didn't know JoeFresh was so allergy friendly!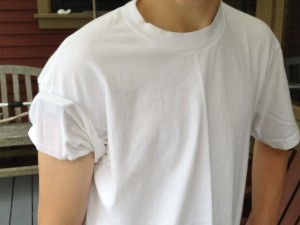 James Dean, but a bit healthier.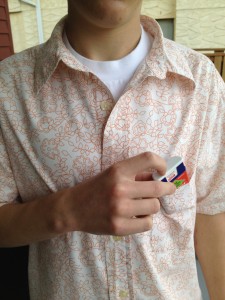 Out for Dinner : Slips easily into a breast pocket.
Love, love love this new product.  Even if you don't carry an auto-injector, spread the word and, you never know, a teenage boy may thank you.