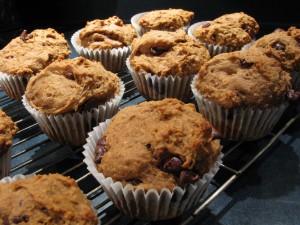 Including a protein with breakfast is challenging when the standards: eggs, cheese and yoghurt are out.  G's dad came up with this muffin recipe through a lot of trial and error, but even the errors got eaten because they contained chocolate chips!  These muffins are a yummy start to the day even if you do not have allergies.  So, today we have a guest baker.  I did not write this recipe, or bake the food or take the photos.  Full credit goes to my husband.  Here we go …
INGREDIENTS
Dry mix:
1/2 cup dried soy protein
1-1/4 cup all purpose flour
2 tsp baking powder
1/2 tsp baking soda
1/4 tsp salt
1 tsp cocoa powder
1 Tbsp ground cinnamon
1 handful dairy-free dark chocolate chips
Wet Mix :
1 med size yam
1/4 cup vegetable oil (canola)
1/3 cup white sugar (brown optional)
2 tsp vanilla
Splash orange juice
DIRECTIONS
Oven 350 F ; prep time 15 minutes ; bake time 20 minutes ; yields 12 muffins
1. Wash yam and perforate skin all around with end of sharp knife. Place on microwave-safe dish and cook 6 minutes on 60% power. Yam should be soft through to centre when done. Remove from microwave and cut in half lengthwise. Let cool. When cool enough to handle, remove skin and slice halves into smaller sections and allow to cool to room temperature.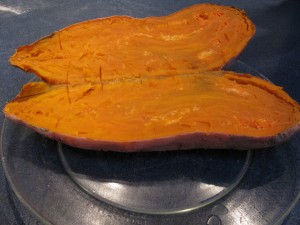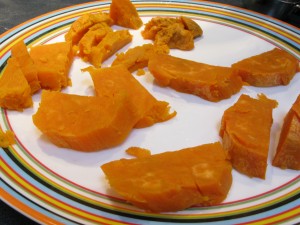 2. While yam is cooking and cooling, add all dry ingredients except chocolate chips into cuisinart with sharp blade attachment (or hand mix with whisk). Run Cuisinart until soy protein chunks are fully chopped into powder and all dry ingredients are well blended (approx 3 minutes). Place into large mixing bowl and sprinkle chocolate chips on top. Set aside.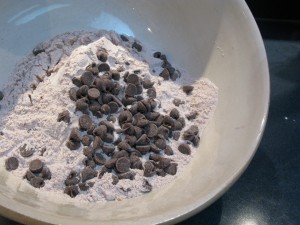 3. In same Cuisinart with blade attachment add all wet ingredients including yam – make sure yam is room temp or slightly warm but not hot. Blend until well mixed and slightly runny ( use the splash of OJ to make the mixture flow better). Mixture should flow but still require spatula to get it out of the bowl. Set aside.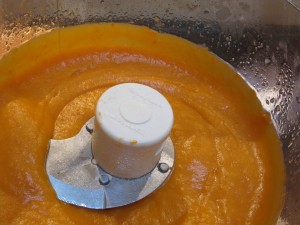 4. Line a muffin tin with paper muffin/cupcake cups.
5. Using a large spatula, add the wet mix to the dry by folding and gently stirring, but do not whip or vigorously mix the batter. Add OJ in small quantities until the batter is well consolidated. The batter should be stiff but not dry. Spoon into the muffin cups using all of the batter for 12 muffins.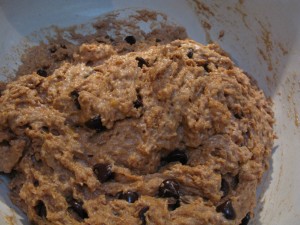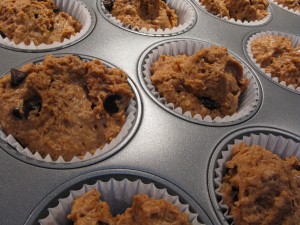 Place in the pre-heated oven on the lower or middle rack. Bake 20 minutes, no peeking. Check if done using toothpick into centre of muffin – if it comes out clean they are cooked through. Remove when done and place on wire rack to cool.
Enjoy!