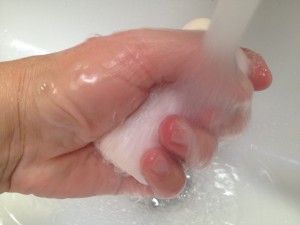 Who invented hand washing?  Not the 'was playing in the mud' hand washing, but the hand washing that happens when your hands look clean but apparently are not.  I'm all for this hand washing, but I'm pretty sure it wasn't around when I was young.  Some things were better 'back in my day', but not this.  I think we only washed our hands when they appeared grimy.  In the 1912 home I first lived in, the room with the toilet didn't even have a wash basin and I'm pretty sure I didn't make the trek to the next room to wash my hands. I know you're thinking "Ew, gross!", but that's how it was.  Wipe your hands on your Wranglers and you're good to go!
I'm fastidious now.  I have to be.  Having a child with food allergies means I wash my hands so often throughout the day that a casual observer might think I have OCD.  When cooking dinner it's not uncommon for me to wash my hands 10-20 times.  I wash them between every task.  With all this hand washing you'd think that I never get colds, well at least I think I should never get a cold, yet I seem to pick up the same number as everyone else.  No justice.
Hand washing is also really important for the food allergic child at school; not just their own hands, but their class mates as well.  That is, it's helpful if their class mates wash their own hands too.  In primary grades this really helps accidental exposure to an allergen.  In case it's been a while since your squeaky clean children were young I just want to remind everyone that kids are messy when eating, really messy.  Yogurt splotches on the table, dropped cheese stepped on, crusts left in desks, jam on cheeks, butter on fingers.
In most kindergarten classes students wash their hands before snack.  At our request, the students in G's class also washed their hands when snack was finished.  This might sound like a huge rigmarole, but since the kindies finished their snacks at different times, there wasn't a line up at the sink and it was a routine that was established on the first day so for the class it was normal.  As part of this they also learned about being considerate of others and helping keep G safe.
This dual hand washing was established in each of G's classes throughout his primary grades and by the time he was in grade 4, so many of the children had been in his class before that most of them continued this washing after eating all the way through elementary school.
If you have a young food allergic child, I recommend talking to your child's teacher about the possibility of including this routine.  It's not as big a hassle as it might seem (if the classroom has a sink) and kid's hands can be sticky after eating so it helps keep the classroom and the supplies clean as an added bonus!
Hand washing is such a simple thing that has so many benefits for your own health and the health of others.  It helps stop the spread of all sorts of things.  Who ever came up with the idea of frequent hand washing was on to something.  We all know now that a good hand wipe on our jeans just isn't good enough.